SELECT SHINGLE MASTER™ (SSM) - This is the top level CertainTeed roofing credential, and represents the highest standards of excellence, quality and knowledge in the shingle roofing industry. An SSM has shown extensive knowledge of shingle installation and quality through rigorous testing, and have provided CertainTeed with proof of workers' compensation and liability insurance. Only an SSM can offer you the highest level of SureStart PLUS™ extended warranty coverage when an Integrity Roof System is installed on your home.

Conditional Workmanship Guarantee for CertainTeed Roofs Only: Twelve years, transferable no fee required. In the event of application failure Abney Roofing will return free of charge to provide stop-leak protection and / or roof or flashing repair. The term of "Workmanship Coverage Protection" is twelve years.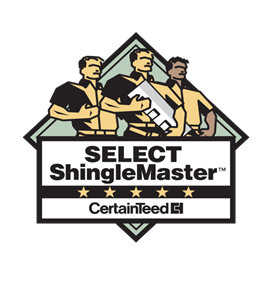 Manufacturers Conditional Warranty: CertainTeed 3-Star Warranty coverage includes the value of materials and labour to remove and reapply the roof assembly. For the first twenty years the warranty of your roof will not be subject to proration. After 20 years, the roof will be warrantied on a pro-rated basis. Please request more detailed warranty information for all CertainTeed Integrity Roof Systems.

*Abney Roofing can also provide 4-Star and 5-Star CertainTeed warranty coverage for an additional charge, please inquire.